1. High precision, Wide application
2. EU CE Certification
3. CQC, ISO9001: 2008
4. High performance,
5. Easy to operation.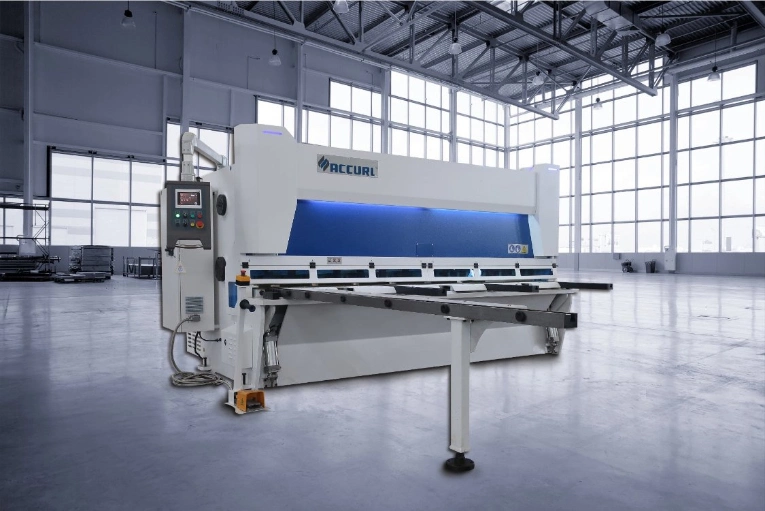 Introduction to the structure and properties:
1. This machine adopts steel plate welding structure, the fuselage using the finite element analysis and design, Vibratory Stress Relief of internal stress, have high strength and good durability.
2. As the cutting beam has been designed in inner-inclined structure, it is easy for plates to fall down and the accuracy of products can also be guaranteed. Shearing in sections (adjust the time displayed on liquid crystal), shadow-line cutting.
3. This machine belongs to second generation of hydraulic shear, with advanced integrated hydraulic system with an excellent reliability and easy for maintenance
4. The parallelism of the sheet to be cut off and the precision of the shear size can be ensured. The cut stroke and cut times also can be controlled.
5. The cutting times of this machining tool is displayed on a digital displayer, and the stroke of top blades is steplessly adjustable.
6. The adjustment of the gap between tools can be showed on an indicating dial.
7. Protective fence and the safety interlocker to ensure the operation safety. Power supply switch that is set in the electric box will be automatically turned off when the box's door is opened or the fence is turned up. Protecting barrier with safety interlocker is mounted on the back of the machine. Another, there are travel limit protection and foot pedestal mounted emergency off switch.
8. Adopt handwheel to rapidly and accurately adjust the blade clearance
9. The rectangular monoblock blades featuring long life with 4 cutting edges, quality high-carbon high-chrome blades D2 quality.
10. European key electrics and Hydraulic Valves Advanced integral hydraulic system with good reliablity-Imported from Germany.
11. Shearing angle is Variable, which can reduce the shearing deformation of sheet metal and can shear much thicker sheet metal.
12. Light alignment device eases drawing line for cutting, Standard front support sheet frame, A set of standard blades
13. This forging machine is ideally suited for your metal machining requirements
14. Front Operated Motorised Backgauge with digital readout display-Estun E10s, stroke-Range 10 to 750 mm.
15. Rolling plate-support of the machine, this can reduce the hurt of the plates and reduce the conflict force.
| | | | | | | | | |
| --- | --- | --- | --- | --- | --- | --- | --- | --- |
| Model | Cutting Thickness | Cutting Length | Cutting angle | Strength | Strokes | Main power | Weight | Dimension(LxWxH) |
| | (mm) | (mm) | (°) | (KN/CM) | (Spm) | (kw) | (kg) | L×W×H(mm) |
| QC12Y-4×2500 | 4 | 2500 | 1°30′ | ≤450 | 10 | 5.5 | 3800 | 3040×1610×1620 |
| QC12Y-4×3200 | 4 | 3200 | 1°30′ | ≤450 | 10 | 5.5 | 5000 | 3840×1610×1620 |
| QC12Y-4×4000 | 4 | 4000 | 1°30′ | ≤450 | 8 | 5.5 | 6500 | 4600×1700×1700 |
| QC12Y-4×6000 | 4 | 6000 | 1°30′ | ≤450 | 5 | 7.5 | 11000 | 6460×2100×3200 |
| QC12Y-6×2000 | 6 | 2000 | 1°30′ | ≤450 | 12 | 7.5 | 430 | 2540×1610×1620 |
| QC12Y-6×2500 | 6 | 2500 | 1°30′ | ≤450 | 10 | 7.5 | 5000 | 3040×1610×1620 |
| QC12Y-6×3200 | 6 | 3200 | 1°30′ | ≤450 | 9 | 7.5 | 6000 | 3840×1610×1620 |
| QC12Y-6×4000 | 6 | 4000 | 1°30′ | ≤450 | 8 | 7.5 | 8200 | 4620×1750×1700 |
| QC12Y-6×6000 | 6 | 6000 | 1°30′ | ≤450 | 5 | 11 | 16500 | 6480×2100×2300 |
| QC12Y-8×2500 | 8 | 2500 | 1°30′ | ≤450 | 10 | 7.5 | 6000 | 3040×1700×1700 |
| QC12Y-8×3200 | 8 | 3200 | 1°30′ | ≤450 | 8 | 7.5 | 7200 | 3860×1700×1700 |
| QC12Y-8×4000 | 8 | 4000 | 1°30′ | ≤450 | 8 | 7.5 | 8800 | 4640×1700×1700 |
| QC12Y-8×6000 | 8 | 6000 | 1°30′ | ≤450 | 8 | 11 | 18000 | 6480×2100×2350 |
| QC12Y-10×2500 | 10 | 2500 | 1°30′ | ≤450 | 9 | 11 | 7300 | 3040×1700×1700 |
| QC12Y-10×3200 | 10 | 3200 | 2° | ≤450 | 9 | 11 | 8000 | 3860×1700×1700 |
| QC12Y-10×4000 | 10 | 4000 | 2° | ≤450 | 8 | 11 | 12050 | 4650×2100×2000 |
| QC12Y-10×6000 | 10 | 6000 | 1°30′ | ≤450 | 5 | 15 | 24000 | 6500×2100×2300 |
| QC12Y-12×2500 | 12 | 2500 | 1°40′ | ≤450 | 9 | 18.5 | 9000 | 3140×2150×2000 |
| QC12Y-12×3200 | 12 | 3200 | 1°40′ | ≤450 | 9 | 18.5 | 10800 | 3880×2150×2000 |
| QC12Y-12×4000 | 12 | 4000 | 1°40′ | ≤450 | 8 | 18.5 | 13000 | 4680×2150×2000 |
| QC12Y-12×6000 | 12 | 6000 | 2° | ≤450 | 5 | 18.5 | 29500 | 6900×2600×2700 |
| QC12Y-12×8000 | 12 | 8000 | 2° | ≤450 | 5 | 18.5 | 46500 | 9000×3500×3500 |
| QC12Y-16×2500 | 16 | 2500 | 2°30′ | ≤450 | 9 | 18.5 | 11000 | 3140×2150×2000 |
| QC12Y-16×3200 | 16 | 3200 | 2°30′ | ≤450 | 8 | 18.5 | 13000 | 3880×2150×2000 |
| QC12Y-16×4000 | 16 | 4000 | 2°30′ | ≤450 | 8 | 18.5 | 16300 | 4650×2150×2200 |
| QC12Y-16×6000 | 16 | 6000 | 2°30′ | ≤450 | 5 | 22 | 36000 | 6900×2700×2700 |
| QC12Y-16×8000 | 16 | 8000 | 2°30′ | ≤450 | 5 | 22 | 75000 | 9000×3500×3500 |
| QC12Y-20×2500 | 20 | 2500 | 3° | ≤450 | 8 | 22 | 15800 | 3440×2300×2500 |
| QC12Y-20×3200 | 20 | 3200 | 3° | ≤450 | 8 | 22 | 18500 | 4150×2350×2700 |
| QC12Y-20×4000 | 20 | 4000 | 3° | ≤450 | 5 | 22 | 21500 | 4850×2600×2400 |
| QC12Y-20×6000 | 20 | 6000 | 3° | ≤450 | 4 | 22 | 47000 | 6700×3000×3000 |
| QC12Y-25×2500 | 25 | 2500 | 3° | ≤450 | 8 | 37 | 19000 | 3200×2700×2900 |
| QC12Y-25×3200 | 25 | 3200 | 3° | ≤450 | 5 | 37 | 23000 | 4200×2500×2600 |
| QC12Y-30×2500 | 30 | 2500 | 3° | ≤450 | 4 | 37 | 23500 | 3300×2900×3000 |
| QC12Y-30×3200 | 30 | 3200 | 3°30′ | ≤450 | 4 | 40 | 26000 | 4200×2500×2600 |
| QC12Y-40×2500 | 40 | 2500 | 4° | ≤450 | 3 | 75 | 38000 | 3200×3300×3200 |
| QC12Y-40×3200 | 40 | 3200 | 4° | ≤450 | 3 | 90 | 49000 | 4300×3300×3000 |