Zhejiang Rongping Building Materials Technology Co., Ltd.
Zhejiang Rongping Building Materials Technology Co., Ltd produce stone coated steel roofing tiles, rain gutter system and asphalt shingles in Hangzhou,China. Since our start of overseas marketing, we have built very good brand influences in the market.
San-gobuild products not only rich in colors, never to be faded away, modeling beautiful and stereoscopic effect, but also has light weight, waterproof, tough, heat insulation, sound insulation, anti-corrosion, antityphoon, earth quake resistance, fire resistance, stain-resistance, easy to install. San-gobuild products combines the features of the times, to the humanities oriented, the pursuit of harmony between human and nature, the use of green raw materials and advance production of poluttion free process, so to make our home healthier, more livable, it is the first choice for developers, architects, contractors and properties, widely popular, and have outstanding performance in the field of villas, townhouses, apartments, flat to pitched, the placement of housing, tourist areas and other constructions.
Due to its excellent quality, our products has been exported to Africa, Aemrica, Europe, Southeast Asia, Austrilia and so on.
Home to fasion, but also to health, this is the faith of our San-gobuild! The first class brand, the first class quality, excellent service is our consistent commitment! San-gobuild sincerely welcome you to come visit.
Product Type:
Stone Coated Roof Tile
Size
1340mm*420mm
Thickness
0.35mm,0.4mm,0.45mm,0.5mm,0.55mm
Warranty
50 years
Color
100% anti-fade Color
Shapes
Classical roof tile, Shingle Tile, Wood Shake Roof Tile, Rainbow Tile,
Modern Classical Tile,Milano Tile
Our Promise
San-gobuild brand stone coated metal roof tile are in high quality level;

Inferior sand and fake Aluminum zinc steel sheet are prohibted;

100% Anti-fade color;

100% Anti-rust alu-zinc base;

100% Finger Print Resistant.
San-gobuild stone coated roof tile advantage
1. Anti-fade Color .

2. Easy and convenient to be installed: Easy to bend, cut and installation.Can be installed on any type of building, even skyscrapers, at angles from 12 to 90 degrees

3. Against strong wind and heavy rain

4. Long lifetime: 50 years warranty

5. Environmental and economical

6. Free sample (Postage is paid by buyer and deduct in order)
Stone Coated Roof Tiles Shapes And Color Choose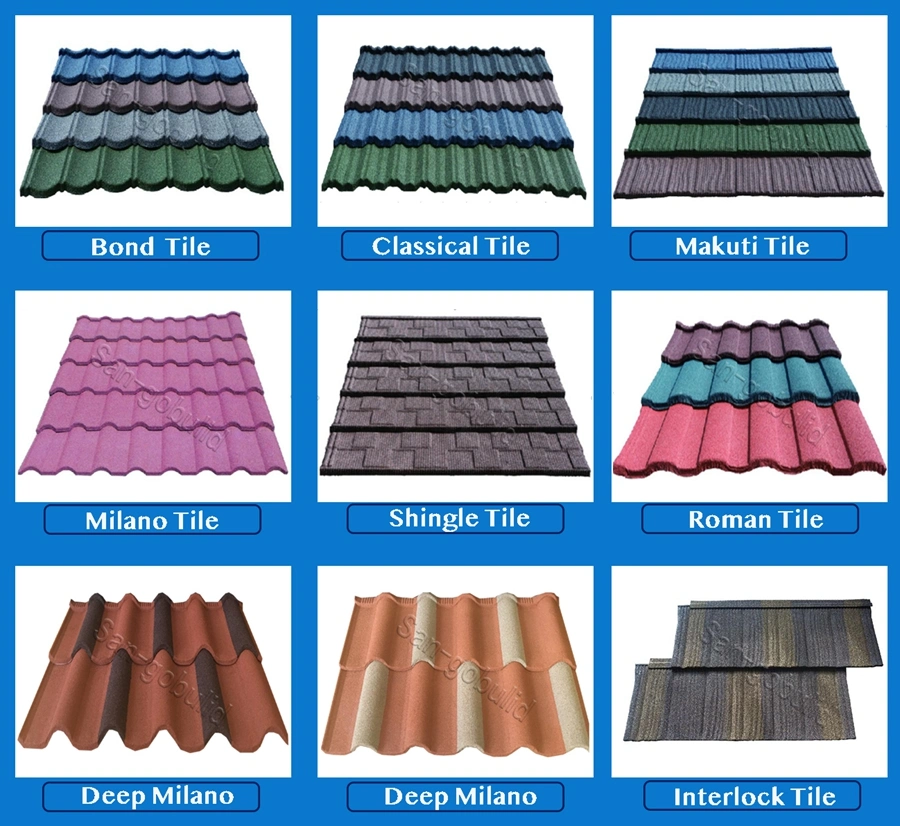 Sangobuild Stone Coated Roof Tile Color Card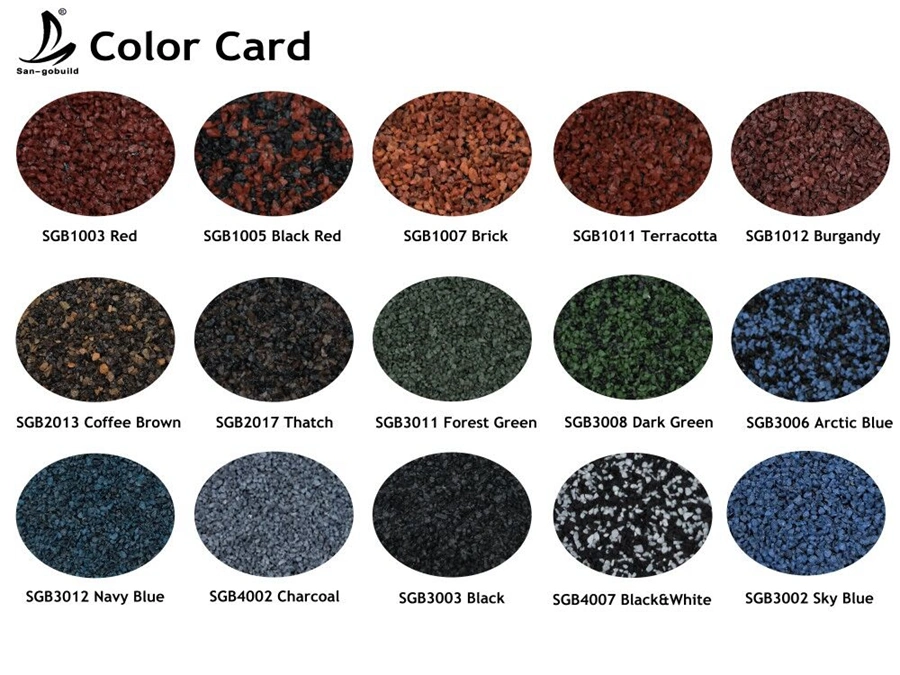 Stone Coated Roof Tile Accessories: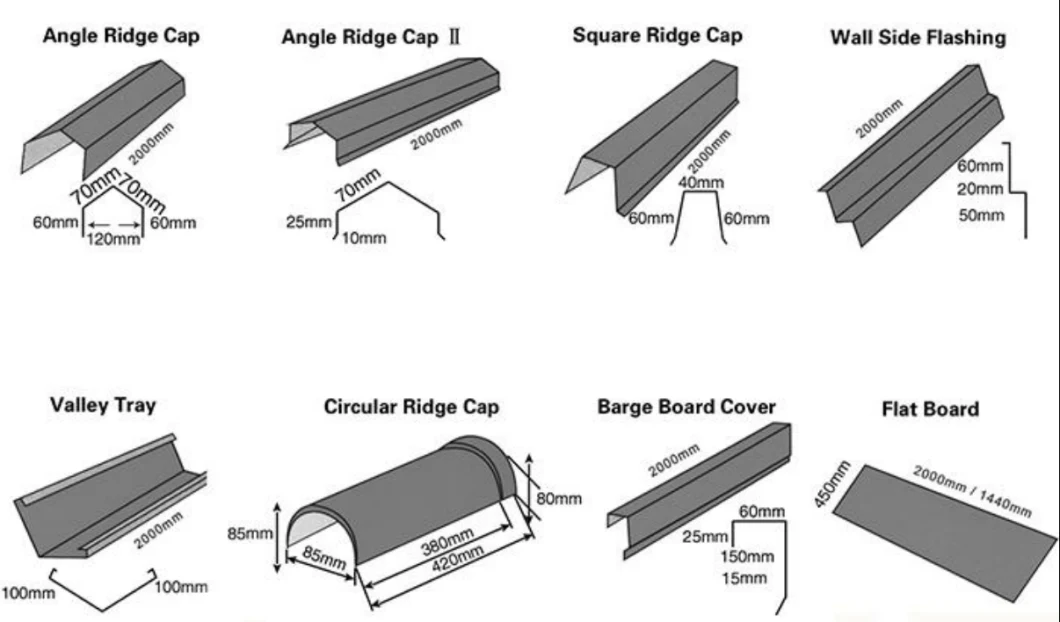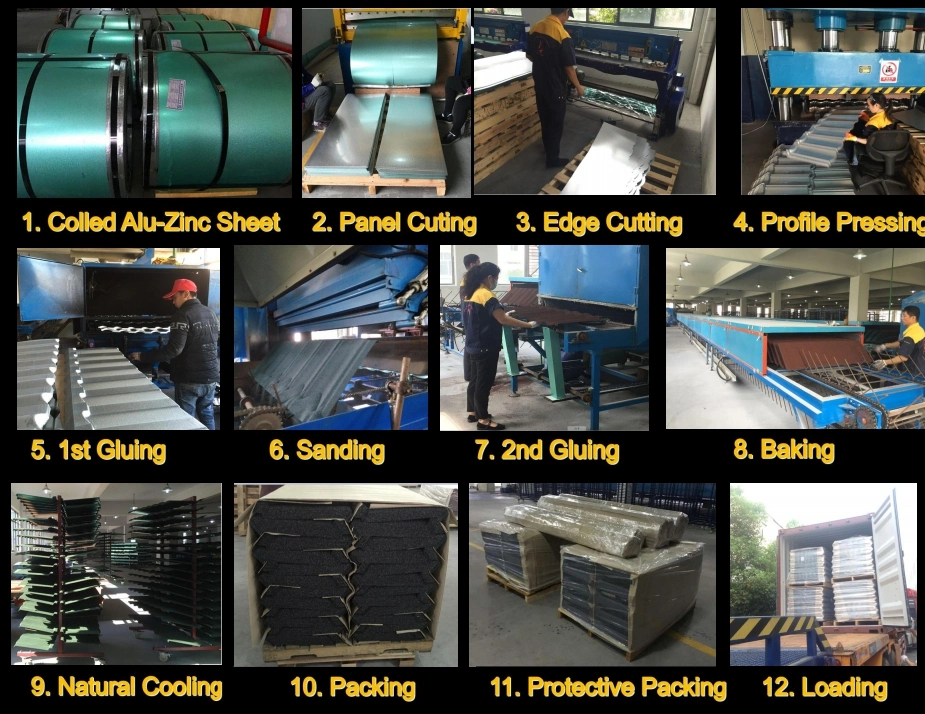 Sangobuild Stone Coated Roof Tile Advantage:
1)Galvalume VS Galvanized
Galvalume may begin to show rust around the edges of the panel before galvanized, but the rust should stop when it comes in contact with the aluminum in the substrate. Galvanized may take a few years longer to show edge rust, however, once the rust begins, it could continue to corrode the entire panel.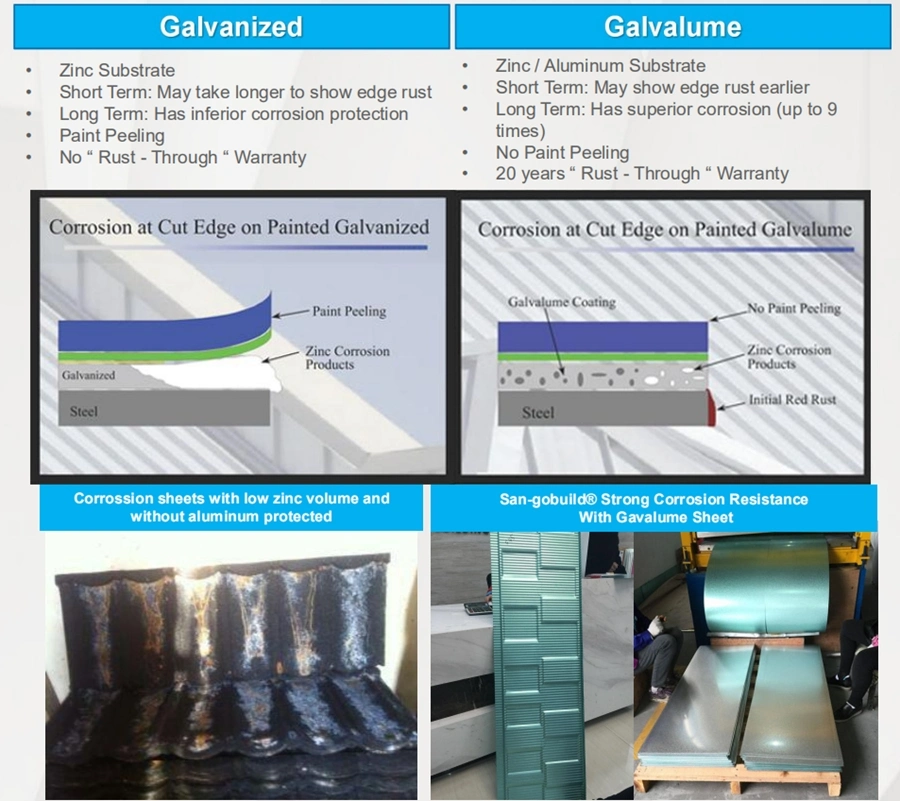 2)Stone Chips---Sintering VS Dyeing
Sand production of sintering process is complex, through chemical bond sintered on the quartz sand, solid color forever, with the performance of resistance to acid and alkali, greatly improving the lifetime. which is very important in coastal countries, The brand of Sangobuild granuel is CL, all the sand stone granule coming out from sintering. Sand dyeing process is simple, but the color saturation is not strong. It is easy appear fade phenomenon after acid and bad environment, shorten the lifetime.

3)San-gobuld® Acrylic Resin VS Ordinary Glue
San-gobuild® Acrylic resin glue has strong sticky strength and good weather-resistance after cohere. Use the acrylic resin super glue will make the stone granule stick firmly on the aluminum zinc steel plate. Oridnary glue with bad adhesive but lower cost, easy make granule leak in short time and different temperture. And the surface will change under certain weather condition.

Sangobuild Stone Coated Roofing Tile Package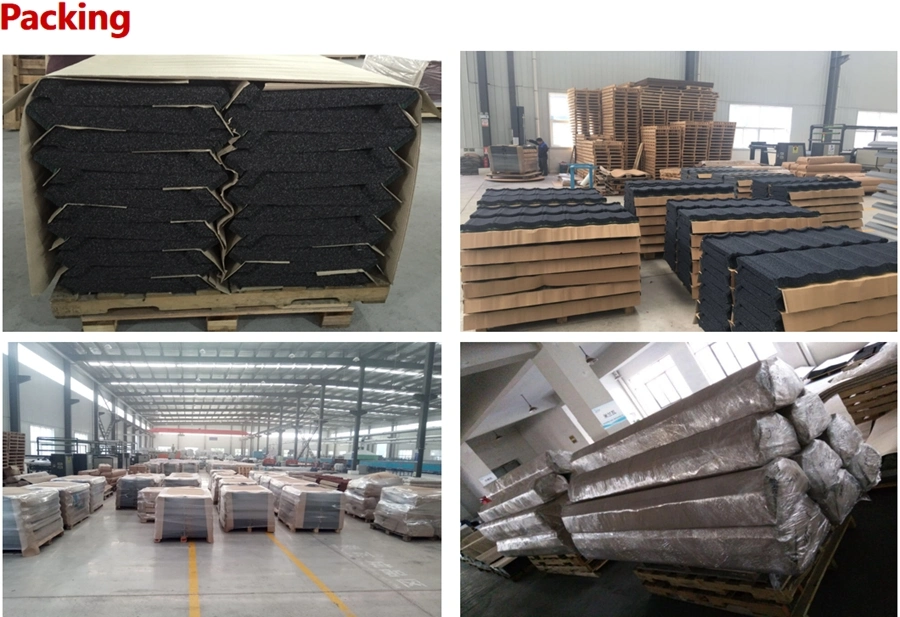 Sangobuild Stone Coated Roof Tile Delivery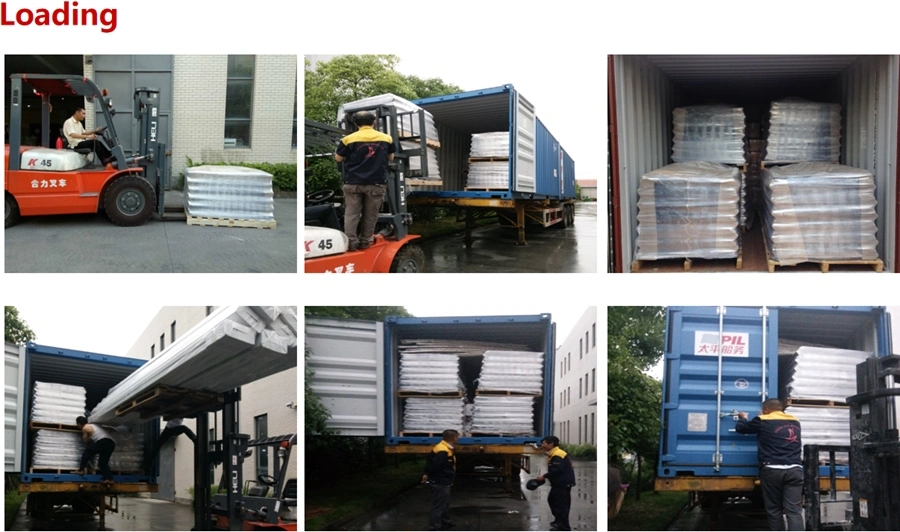 Sangobuild Stone Coated Roof Tile Carton Fair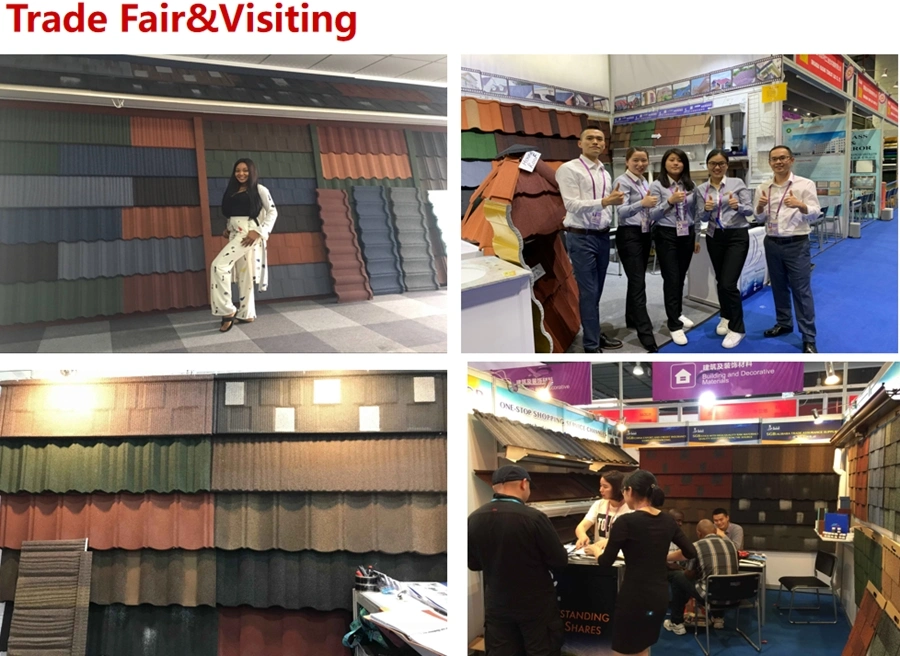 FAQ
Q: Could I install the stone coated roof tile on the 0 degress roof?
A: The stone coated roof tile should install the roof which have 20 degress roof pitch.If the roof pitch is below 20 degress,it will be easy to leaking.
Q: What kinds of roof is suitable to install stone coated roof tile?
A: Both concrete roof and wooden roof could install the stone coated roof tile,but it must install the roof batten before install the roof tile,except interlock tile.
Q: Is necessary to install the roof batten before install roof tile?
A: Yes,it must install the roof batten before install roof tile,except Interlock tile.Becasue we need to fix the roof tile on the roof batten when installment.
Q: How many years warranty?
A: The warranty of Sangobuild stone coated roof tile could be 50 years.
Q: Does the color fade?
A:Sangobuild promised all stone coated roof tile is not color fading.We use CARLAC(CL) natural stone chips which is from French and it also supply the stone chips to the factory for stone coated roof tile in South of Korea and USA.The granula have excellent performance for weather resistance and against the extreme UV.
Q: Will the stone chips fall down after installment?
A:Sangobuild use the advanced technology "pour glue" to make the stone chips stick firmly with steel sheet.And it also solve the problem of uneven color which caused by traditional handmake spray glue in the same time.
Q:Is there any matters need attention when install stone coated roof tile?
A: The up and down roof tiles should be staggered,if install it straightly,it will be easy to leaking.
Contact: